On the occasion of the 21 Anniversary of the Society to Save Rocks on Thursday, 26.1.2017 (Republic Day),
we invite you to a

Get-together and Exhibition of Rock Photos
at the Phoenix Arena TSIIC Park, HITEC City, Phase 2, opposite HSBC Office
(take lane next to Lemon Tree Hotel, then right; see also Google directions)
at 5 pm

Lama Doboom Tulku, Founder, World Buddhist Culture Trust, New Delhi, will inaugurate the Exhibition at 6 p.m.

Please inform Padmini Patell (9912865299) of you participation.



Rock Walks

Rock Walks are nature treks to different rocky areas in and around Hyderabad. They usually take place in the afternoon (and occasionally in the early morning) of the third Sunday of every month. No fees are charged. Sensible walking shoes, long pants and a cap should be worn. Drinking water is a must.
The Society does not take responsibility for any accident or injury that may occur during rock walks. Walkers should heed safety instructions given by the guides.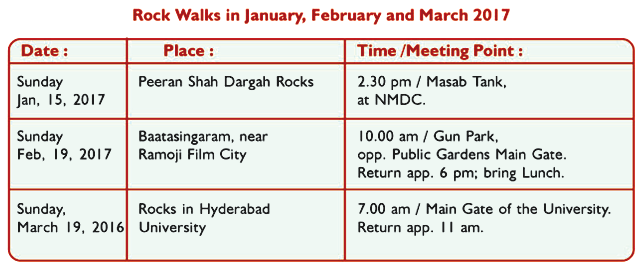 Bank transfers can be made to:

Society to Save Rocks
Bank of Baroda, Hyderabad, Jubilee Hills Branch,
Account No. 18090100003047
NEFT Code BARB0JUBILE (where 0 is a zero)

Please mention your name in the transfer.